Monthly Carvana Sales Updates
October 2022
In October, Carvana only

claimed 0.77% of the used car market

across all 28 states we currently monitor.
Carvana increased month-over-month sales in

Colorado by 78%

in October.
Texas is currently the

largest Carvana market

based on sales, with just over 4,000 units sold in October.
September 2022
Carvana took a big hit in New York in September with an

82% decrease in month-over-month sales

for September.
Meanwhile in Arkansas, Carvana

increased sales by 65%

in the month of September.
Illinois was another strong state for Carvana in September with an

increase in sales of 42%

month-over-month.
August 2022
In Kentucky, Carvana has gained 0.175% market share in just the past three months.

Meanwhile, in Ohio, Carvana sales are dropping slightly with an overall loss of 0.197%.
July 2022
Carvana - OAK BROOK has

gained 0.8%

of their market over the past 12 months. They are among the top five increasing dealers of Illinois.
Additional Carvana gains include the state of Kentucky and Arkansas,

with a 0.44% and 0.24% increase respectively

in their Carvana sales over the past 12 months.

The past three months have seen some Carvana stores struggle, with San Diego and Miami Carvana stores taking a slight dip in sales.
February 2022
Carvana redeemed themselves in February after suffering an 8% loss in sales in January, by

increasing used car sales by almost 15%

month-over-month.

Texas continues to claim the highest market share

of Carvana sales across all of the states, claiming almost 30% of all Carvana used sales in February.
Carvana is making big strides in Virginia, with

over a 200% increase

in used vehicle sales month-over-month in the state.
January 2022
Carvana took a dip in sales

for the month of January, losing about 5,200 in month-over-month sales across the 26 states being tracked.
Illinois Carvana sales

increased 4.21%

month-over-month.

Claiming 9.74% market share

in Carvana sales, Ohio also increased their sales of Carvana vehicles in the month of January.
December 2021
Carvana sales tripled in the state of Arkansas for the month of December,

up 227 units

month-over-month.
Illinois saw the

largest decline

in Carvana sales month-over-month, with a 64% decrease in Carvana sold units.
Slow month-over-month growth for Carvana sales in all states, with 0.93% of all vehicles sold in December being from Carvana.

Up only 0.04% from last month
November 2021
Tennessee made a big jump in Carvana sales in the month of November,

increasing sales by about 1,500 units

month-over-month (Oct 2021 vs Nov 2021) and surpassing Florida to be the second highest Carvana selling state.
Illinois increased Carvana sales by

400 units

month-over-month.
Over the last three months, Carvana sold 45,630 units. A

97.9% year-over-year increase

for this time period.
October 2021
Maryland almost doubled their Carvana sales month-over-month (Sept 2021 vs Oct 2021),

with a 46% increase

.

Texas surpassed Florida

this month as the top state for Carvana sales claiming almost 33% of all Carvana sales in October.
Overall Carvana sales

increased 19.5%

month-over-month.
September 2021
Carvana used vehicle sales currently

account for only 0.51%

of all vehicle sales in September.

Florida ranks as the top state

for Carvana used vehicle sales with 19.85% of total Carvana sales in September.
Month-Over-Month (Sep 2021 vs Aug 2021), Carvana saw an average

8.53% increase in sales

.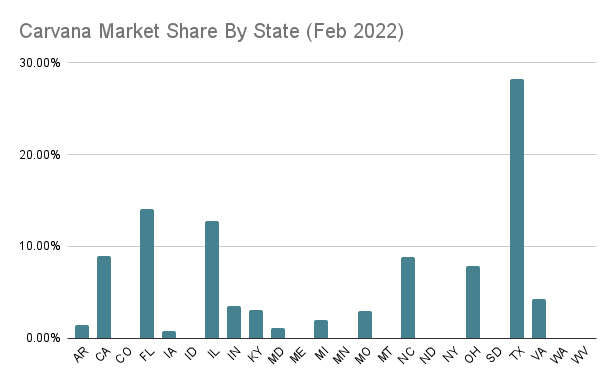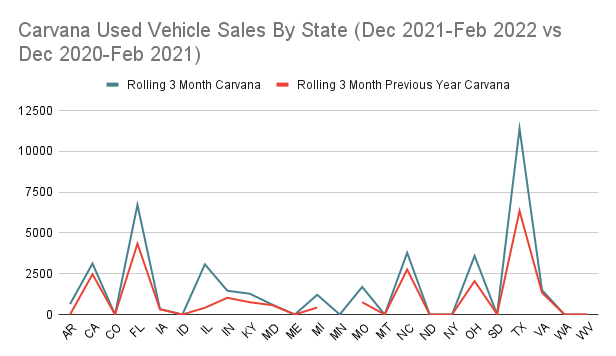 Source: Cross-Sell Interactive®
DISCLAIMER: Cross-Sell uses, and relies on the accuracy of, information received from the 26 states that provide the reports, and the data included on this page is derived solely from that information.
Want More Carvana Sales Data?
Learn more about Cross-Sell Interactive®, get a free demo and receive custom pricing for the data you need!