Monthly Electric Vehicle (EV) Sales Updates
November 2021
Another small increase in month-over-month EV sales, November saw

EVs claiming 1.50%

of all vehicle sales in November.
While almost all states had a decrease in EV sales,

Florida (+119%), Michigan (+21%) and Tennessee (+13%) increased EV sales

month-over-month.
While Tesla models outsell all other EV models,

the LEAF and Mustang Mach-E closely follow with nearly 3k new and used sold units

combined in November.
October 2021
Increasing slightly from last month, EV sales

account for 1.43%

of all vehicles sales in October.*

Texas increased their EV sales 131%

month-over-month (Sept 2021 vs Oct 2021), and ranked the second highest state for EV sales for October.
Louisiana also saw a drastic increase in EV sales with a

90% increase

month-over-month.
September 2021
Currently, EVs hold

1.09% of the 2.9 million

vehicles sold in September.*
California ranks as the top State for all EVs sold in September,

with 5.15% of sold units

in the State being EVs.
Top EV model in September was the

Tesla Model 3 with over 11,000 units sold

, followed by the Tesla Model Y with just over 8,400 units sold.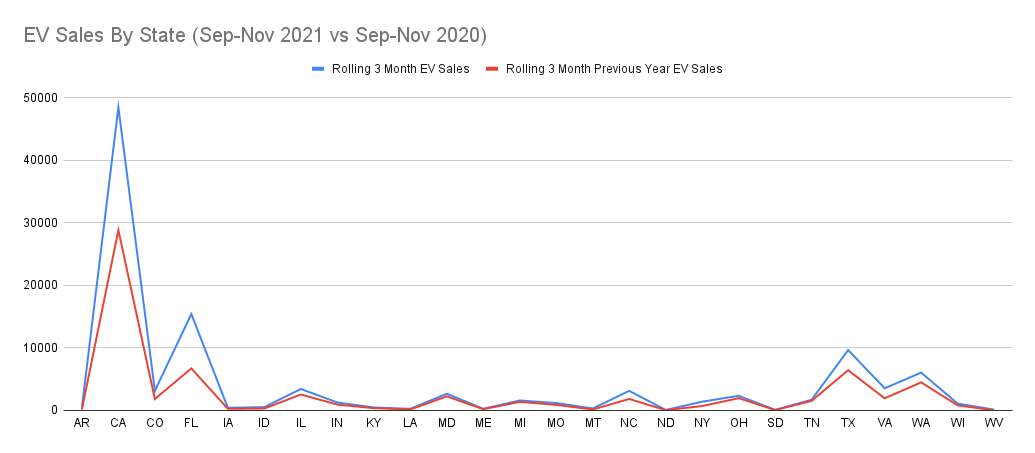 Source: Cross-Sell Interactive®
*DISCLAIMER: Cross-Sell uses, and relies on the accuracy of, information received from the 26 states that provide the reports, and the data included on this page is derived solely from that information.
Want More EV Sales Data?
Learn more about Cross-Sell Interactive®, get a free demo and receive custom pricing for the data you need!