Monthly Tesla Sales Updates
November 2021
Washington follows the top three states for Tesla sales,

claiming 3.70%

of all Tesla sales in November.
Tesla Model 3 is gaining ground on the

Model Y, with

13,315 new and used sales in November; only about 2k units away from the Model Y.
Down for a second month in a row,

used Tesla sales account for 14.42%

of all Tesla sales in November.
October 2021
Used Tesla sales dropped slightly, accounting for

16.8% of all Tesla sales

in October.

Texas surpassed Florida

as the second highest state with Tesla sales, claiming 13.6% of all Tesla sales in October.
Overall Tesla sales increased month-over-month, with the

Model Y seeing a 37.6% increase

and closing in on New Model 3 sold units.
September 2021
California ranks as the top state for Tesla sales, followed by

Florida which accounted for 24.77%

of Tesla September sales.
The Model 3 is the top seller in September with just over

11,000 units sold

(new and used).
Tesla

used vehicle sales account for 18.32%

of all Tesla sales in September.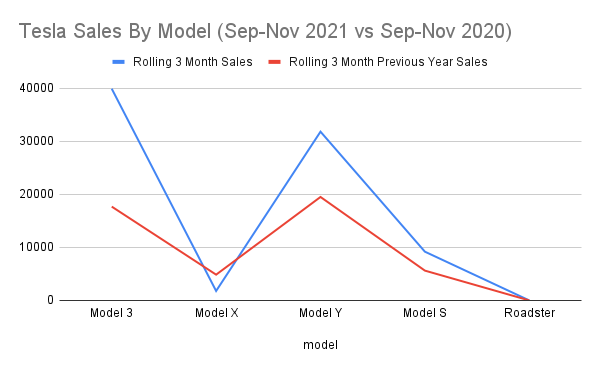 Source: Cross-Sell Interactive®
DISCLAIMER: Cross-Sell uses, and relies on the accuracy of, information received from the 26 states that provide the reports, and the data included on this page is derived solely from that information.
Want More Tesla Sales Data?
Learn more about Cross-Sell Interactive®, get a free demo and receive custom pricing for the data you need!