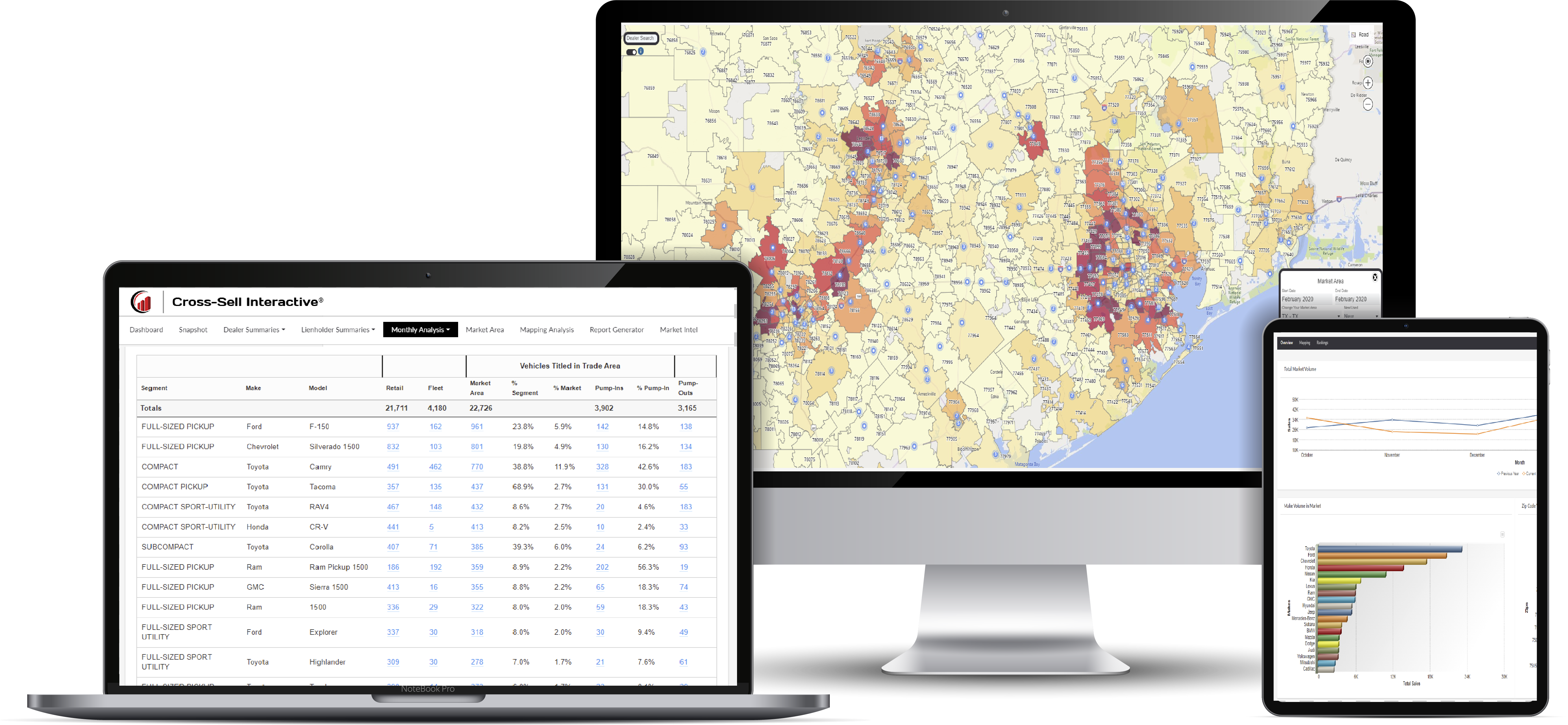 Automotive Dealers
Understand the local automotive market, protect sales and grow market share.
Media Companies
Create targeted strategies to help dealerships drive more sales
AUTO LENDERS
Discover new automotive lending opportunities within major markets
Gain access to the industry's leading vehicle data with Cross-Sell Interactive®
---
Directly from state registrations, Cross-Sell Interactive® vehicle data provides insight into customized local markets to help dealerships and dealer partners create strategies for increased market share. Cross-Sell reports provide in-depth views of local automotive sales, registrations and trends.
Custom Markets & Statewide Access
Pinpoint your local market, or stretch out across your entire state, to see the full competitive landscape.
Create your own reports using a variety of data fields from within our interactive software.
Easily view a snapshot of your local market and the competition within
---
The Snapshot view within Cross-Sell Interactive® gives an overview of your custom market for quick visibility. Set the date range and let the reports tell the story of your surroundings, including top dealerships, high-performing zip codes, best selling makes and models, and more.
Interact with your market using Cross-Sell Interactive's Heat Mapping Tools
---
Identify the hottest selling zip codes and drill down into competitive areas with Cross-Sell's registration heat mapping.
Maps built for your business market gives you an aerial view of top-selling areas
Top Dealers & Zip Code Reports
Drill down into a zip code and gain access to top dealerships in that competitive landscape
A growing database
---
With data from 24 states, covering all major markets in each, our database continues to grow as additional states are added, new dealerships are identified, and access to additional data sources are locked in.
---
The options above are our most popular data packages. Not seeing what you need? No problem, we'd love to create a custom report package that fits your business need. Fill out our Custom Quote form and a data analyst will reach out to you to review options.